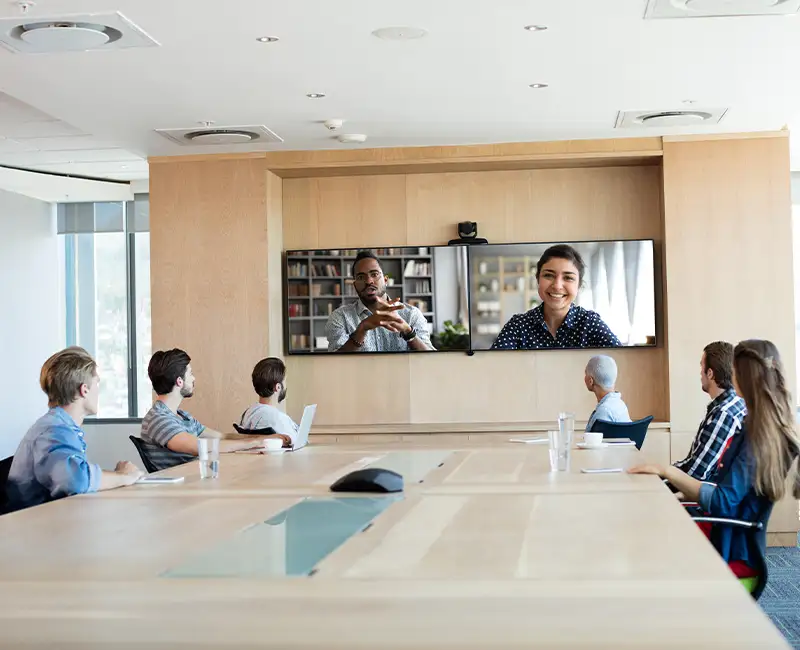 At Schlabach Security & Sound, we provide audio video solutions to suit a number of corporate applications.
With the expertise and latest technology we provide, you are sure to find a solution to best fit your needs and budget! We offer screens, projectors, speakers, and TVs that are perfect for presentations and video conferences. With their crystal clear sound quality and high-resolution images, you'll understand the difference a Schlabach Security & Sound system makes! Our products are easy to use, but we also offer maintenance for all of our equipment so you'll always have a product you can rely on.
Take charge of your business
Schlabach Security & Sound offers a full suite of interactive services tailored to support small and medium-sized businesses, from single properties to multi-location enterprises. With professional-grade security, energy management, and video monitoring solutions, you can keep your business secure, gain new awareness and instant visibility into key operational activities, and manage your energy costs.
Professional Grade Security
Engineered for reliability, our Interactive Security and patented Crash & Smash protection keeps your business protected from tampering, power outages, and service interruptions. You'll be able to stay in control of your business's security and manage employee access, from anywhere.
We make it easier to monitor activities at your business, whether it's one location or multiple locations, even when you're not there. With customizable alerts you can instantly see whether the business opened on time, know who disarmed the security system, and even get images sent to your phone if a secure area is accessed.
Monitor the safety of your business
Keep an eye on all of the important activity at your business. With single site and multi-site viewing, and live-streaming and recorded video, it's easy to monitor the key aspects of your business when you can't be there.
Energy management and automation services for businesses help reduce energy waste automatically, and enhance liability control with lighting schedules and triggers. Connecting lights, locks and thermostats to the security system ensures that your business is comfortable when it's open and safe when it's closed.