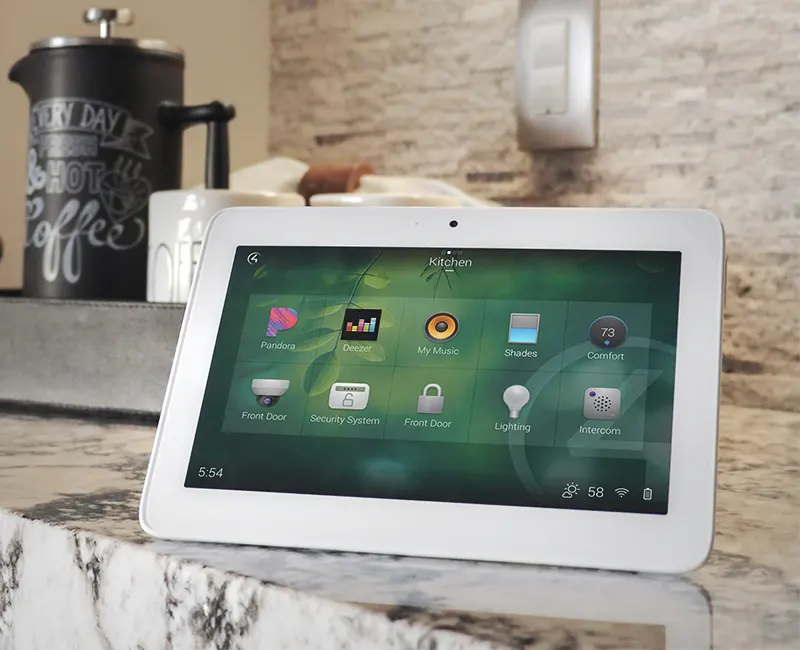 Let Schlabach Security & Sound equip your home with our personalized automation systems.
Control4® Smart Home solutions from Schlabach Security Systems let you control your lights, thermostat, home theater, audio/video equipment and security from your smartphone or tablet from virtually anywhere in the world. Control4® uses the popular Amazon Echo® and Alexa® features to turn your home into a voice controlled smart home.
Home automation is the convergence of technology and convenience, allowing the digital devices that you use every day—TVs, audio equipment, lights, security panels, thermostats, and so on—to work together. By allowing everything in the house to work together, with the ability to control it all from one easy-to-use interface—whether it's a touchscreen, remote control, keypad, or even your smartphone—your home becomes more comfortable, convenient and secure.
State-of-the-art home and business automation
We can place you on the cutting edge of technology by giving you unprecedented control of any system in your home through a single user-friendly interface.
Whether you choose to access your home system through a touchpad in your home or through a mobile device from anywhere in the world, Schlabach Security & Sound is here to give you total control.
Use our personalized systems to create scenario settings to fit your lifestyle. Did you forget to turn off a light before leaving on a week-long vacation? Program an "Away" setting on your mobile device to shut off all lights. Too tired to get out of bed to lower the temperature? Pick a "Nighttime" setting that will do it for you. Having guests over? Select a "Party" setting that will broadcast music in all rooms of your house and dim your lights to set the mood. The options are limitless, and you are in total control. With the help of Schlabach Security & Sound, we will make you the master of your home.